Cubs News
---
After strange turn of events, Frank Schwindel is back with the Cubs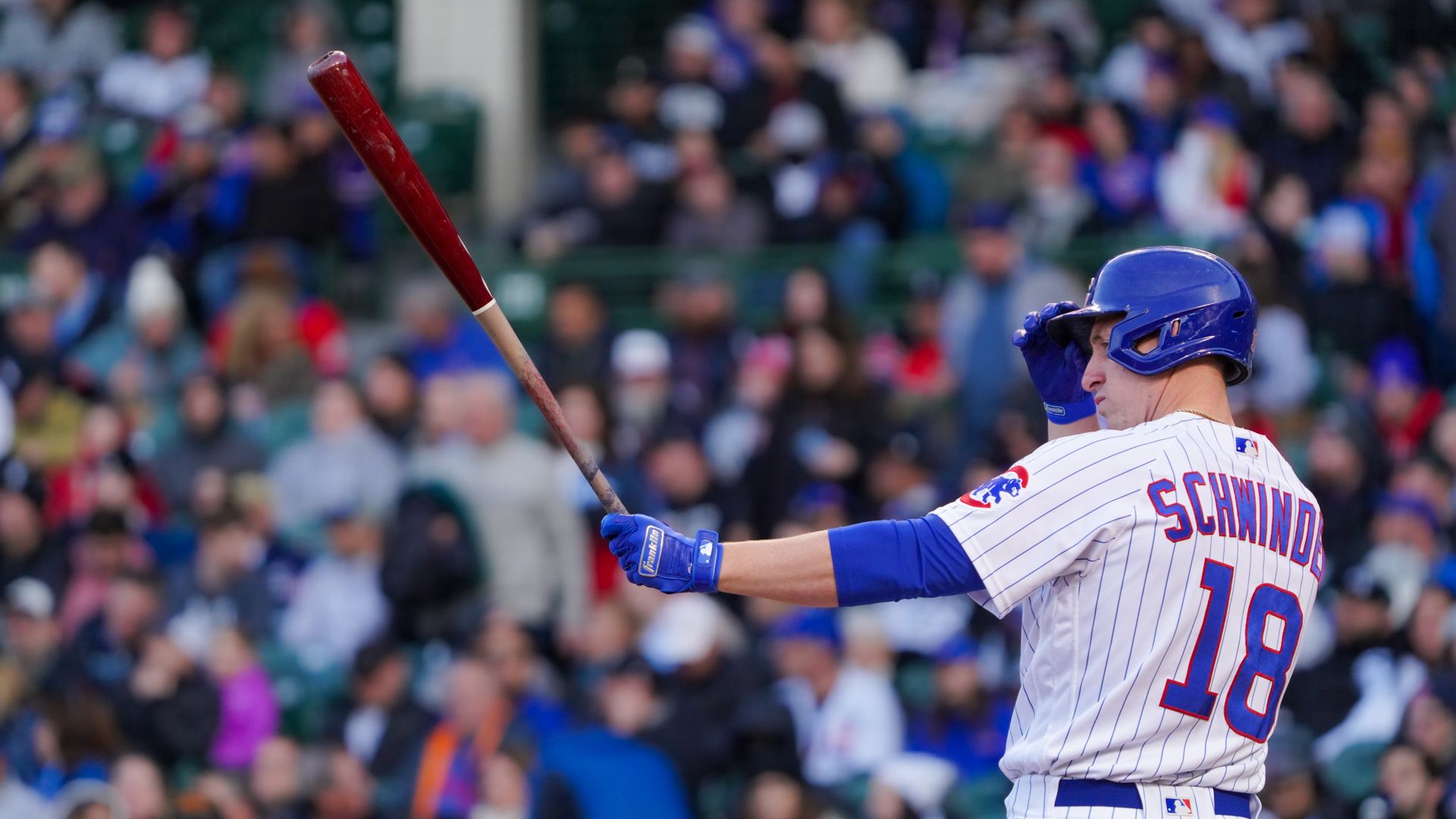 The last 24 hours have certainly been strange for Frank Schwindel.
Facing a roster crunch — particularly on the pitching staff — the Cubs had to make a series of moves before Sunday night's game at Wrigley Field. The team opted to send Schwindel down to Triple-A and selected pitcher Adrian Sampson from Iowa.
But Schwindel was back on the big league roster Monday evening and inserted immediately into the lineup in the No. 5 spot in the batting order in San Diego.
The new week started with Cubs fan Jack Pastuovic Tweeting that Schwindel was on his flight to San Diego — and sitting in a middle seat, to boot:
Frank Schwindel is on my flight to San Diego and sitting in a middle seat.

— Jack Pastuovic (@jackpastuovic) May 9, 2022
Since this all happened so quickly and the Cubs team flight left Chicago immediately after Sunday night's game, Schwindel had a whirlwind day of travel to get to the West Coast. Iowa is off Monday, so Schwindel wasn't going to be in the Triple-A lineup until Tuesday anyways.
As Taylor McGregor reported on the Marquee Sports Network broadcast Monday, Schwindel was delayed in getting to Iowa because he had to get his car fixed. As he was driving to the mechanic Monday morning, he found out he was getting called back up.
A few hours before Monday's game against the Padres, the Cubs announced roster moves to bring more clarity to the situation.
Sampson was optioned back to Triple-A, Schwindel was recalled, David Robertson headed to the IL without an injury designation and left-handed pitcher Conner Menez was selected from Iowa.
The end result was only 1 missed game for Schwindel and he is back with the big-league club for another opportunity.
"Not necessarily a wake-up call or anything like that, but I knew I wasn't playing well," Schwindel told reporters in San Diego. "Now it's time to get going. I think I can definitely help this offense and once I start rolling, we'll start putting some more runs up and it's gonna help everybody out."
The Cubs claimed Schwindel off waivers in July last season and he was promoted to the majors after the trade deadline. He took the baseball world by storm, hitting .342 with a 1.002 OPS and 13 homers in 56 games.
So far this season, Schwindel entered play Monday hitting .209 with a .558 OPS, 2 homers and 9 RBI in 25 games.
For a guy who has played 8 years and more than 800 games in the minor leagues, he hopes to never be sent back down to Triple-A.
Schwindel believes part of his struggles this season has simply been a lack of timing and confidence.
"I haven't really felt good this whole year, to be honest," he said.
He also feels like he's been chasing hits.
"They say what comes first — hits or confidence?" Schwindel said. "That's a tough question to answer. It's hard to take a step back and try not to chase the hits, chase the pitch outside the zone to try to get a guy in.
"It's getting back to the mindset of letting the pitcher come to me and then not missing my pitches that I have been lately and chasing their kind of stuff. Just getting back to my strike zone and doing damage on the pitches I should hit."
Could this unique situation be the type of mental reset Schwindel needs to spark him at the plate?
"We'll see," David Ross said. "I think sometimes these little moments and how things work out are funny. He could carry us for the next week and he's not going anywhere. Nobody tries to predict the future here as much as we'd like to.
"I know one thing about Frank is he's gonna give his best in everything we ask him to do. He's here to help his win. He's improved in his defense, continued to be in the middle of our order. He's there because we have confidence that he's a really good player."
NOTES
—In other roster news, Wade Miley will start Tuesday night's game in San Diego. He has been on the injured list all season with elbow inflammation and made a rehab start last week in Iowa.